It's finally here – summer!  No more pencils, no more books, no more teacher's dirty looks… school's out for the summer!  Now that camp started, kids are at sports practice, you're out in the garden and the family's hitting the road to the nearest pool or beach… did you remember to pack the essentials?


We've all been there… "I'll only be in the sun for a little while"… "it's cloudy so I won't get burned"… "I won't get sunburn while I'm skiing in winter"… wait, what was that?  Yes, you can absolutely get sun damage in any of these situations.  Sunburn is no joke, believe me.  I had the worst I ever witnessed firsthand and still have the lasting damage to prove it – that young, naive me living in Florida, bike riding at high noon with no sun protection.  Yeah… prime example of what NOT to do, but that won't be you right?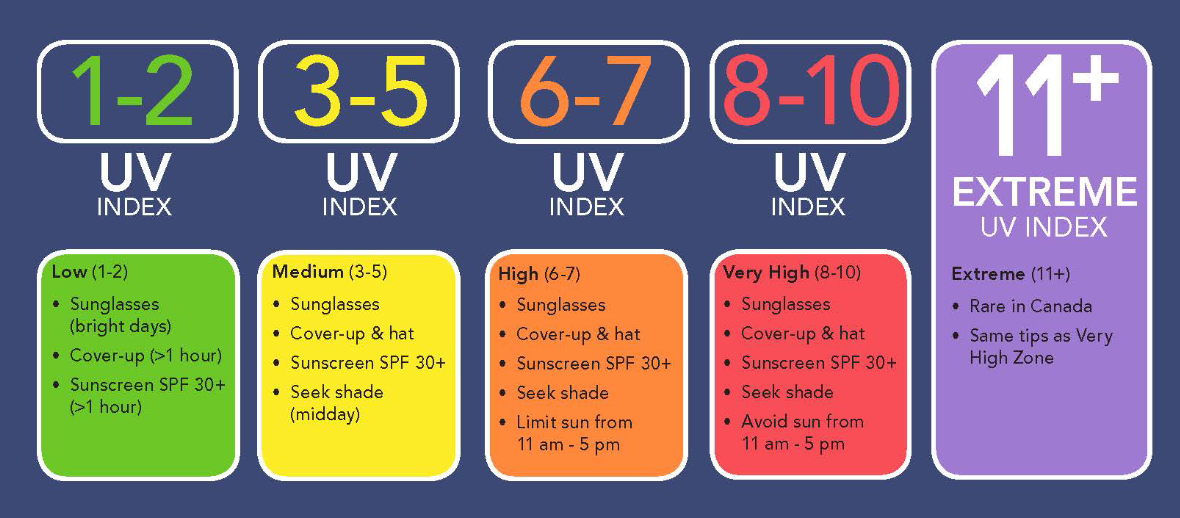 The sun is super sneaky and will find you even in the shade or under an umbrella at the beach next to the water. Want to see how sun-safe you are every day? Take this quiz to find out!
According to the American Cancer Society, skin cancer is the most common cancer in the United States. Every year in the US, more skin cancers are diagnosed than all other cancers combined. For more info on early prevention and early detection click here. Some obvious things you can do are wear sunscreen, limit your sun exposure and avoid tanning beds.  If it's a sun-kissed look you are craving, opt for a less harmful solution by wearing bronzer or sunless tanning lotion.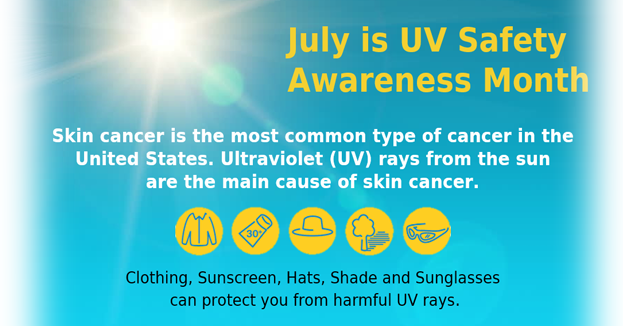 July is UV Safety Month, and all of us at RSS want to be sure you stay safe this summer!  Check out the helpful hints below.
Here are 9 ways to protect your skin:
Wear sunscreen every day, in all weather and in every season. It should have a sun protection factor (SPF) of 30 and say "broad-spectrum" on the label, which means it protects against the sun's UVA and UVB rays. Put it on at least 15 minutes before going outside. Use 1 ounce, which would fill a shot glass.
Reapply sunscreen at least every 80 minutes, or more often if you're sweating or swimming.
Wear sunglasses with total UV protection.
Wear wide-brimmed hats, and long-sleeved shirts and pants.
Avoid being out in the sun as much as possible from 10 a.m. to 2 p.m.
Check your skin regularly so you know what's normal for you and to notice any changes or new growths.
Choose cosmetics and contact lenses that offer UV protection. You still need to use sunscreen and wear sunglasses with broad-spectrum sun protection.
If you're a parent, protect your child's skin and practice those habits together.
Don't use tanning beds.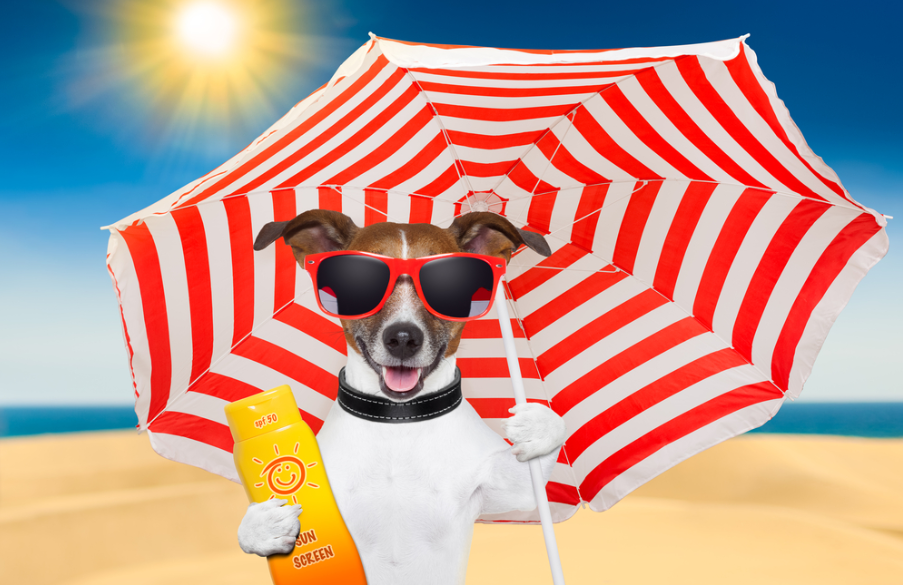 Did you know your pets can also get sunburn?  Keep your pup protected by giving him plenty of shade (and water).  There are a few pet-friendly sunscreens available out there as well.  Please don't use any human sunscreen on cats and dogs.  Those that contain zinc oxide and para-aminobenzoic acid are toxic for dogs, and those containing salicylates (or acetylsalicylic acid) are toxic for cats.  Watch out for redness of skin and any dry, cracked skin or hair loss.  Walking on hot pavement isn't good for their pads either!
UV safety is important for everyone!  Be safe and happy summer!