So let me start out by saying Happy National Haiku Poetry Day!  It's always fun to try your hand at creating a haiku.  Traditionally they are about seasons, feelings, nature, etc… but have some fun and make one about your day, your pets… or your insurance!  See mine below.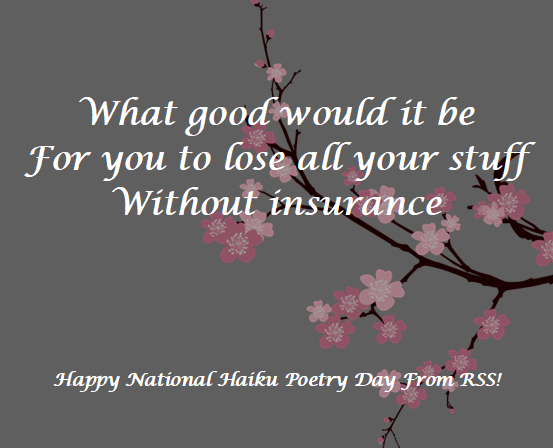 In all seriousness, have you reviewed your policies lately?  I'm going to let you in on something fantastic that happened to me a few weeks ago.  I had someone in the office quote me on a new policy and I'm now saving $150 a month!
I was a loyal client of the same insurance company for 20 years, insured many vehicles, homes, etc, only put in a claim for a flat tire on the thruway once, but their hands were tied on how many more discounts I could receive.  Not their fault!  I just figured why not see what else could be done?  I didn't want any more time to pass if I could be saving my family some money.  Do you find yourself wondering the same thing?
It doesn't cost a penny to check it out, and the best is seeing how happy everyone in the office is to save you money!  Everyone at RSS wants to work with you to find the best policies to fit your needs.  It's a relief when you find a dependable team who roots for you.  Don't waste any more time – or money!
Click here or call today!  845-481-4036